Schauffele Leads After Round Three at Olympic Golf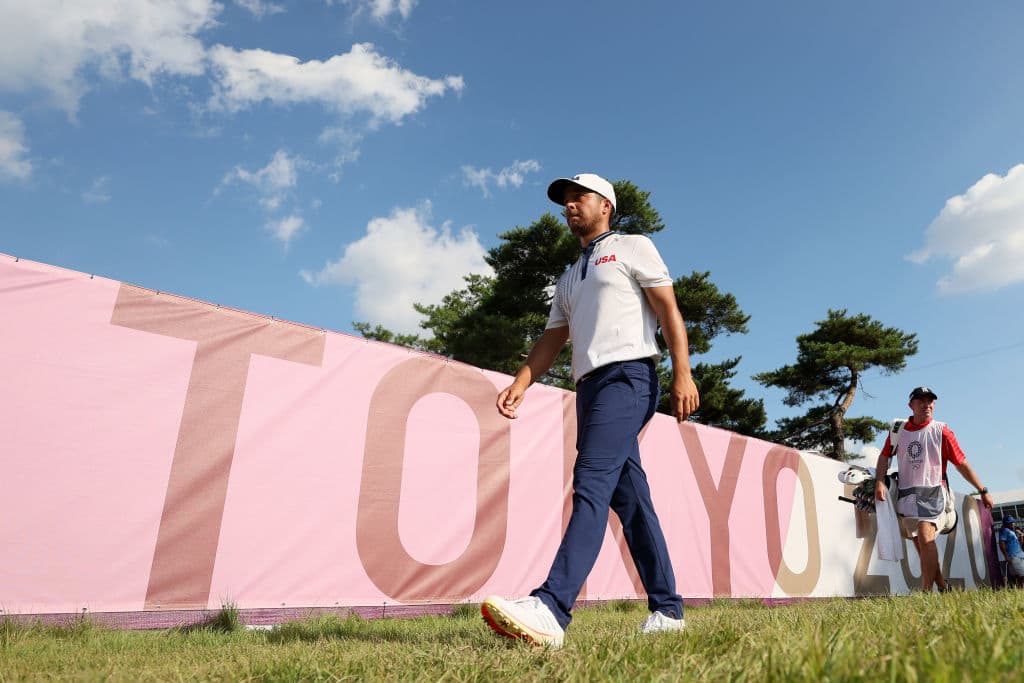 Kawagoe, Saitama, Japan - Xander Schauffele birdied the 18th hole at Kasumigaseki Country Club Saturday to take a one-stroke lead heading into the final round of the Olympic men's golf competition. Hideki Matsuyama (Japan), Carlos Ortiz (Mexico), and Paul Casey (Great Britain) are tied for second at -12.
"Yeah, it's been a fun week, in a good position going into tomorrow," Schauffele said.
Fighting his swing off the tee most of the day and not hitting his first fairway until the eighth hole, Schauffele dug deep and relied on his putter to keep himself in contention throughout the day.
"Yeah, your putter doesn't know how bad you're swinging it, it's a completely different part of the game," Schauffele said. "So I made that joke to my caddie on 9 saying, if I can roll this in, it's ugly, but we're getting it done right now. So I would like tomorrow to be a little bit more fun all around."
Collin Morikawa had a roller coaster round that featured five birdies and an eagle en route to a third-round 67 (-4). He is currently in X position, X back of the leaders, and X back of medal contention heading into Sunday. Morikawa found momentum early in the round, eagling the par-4 6th hole and following that with a birdie at 7 before a lost ball on the par-5 8 forced him to scramble for bogey.
"Obviously, I had that eagle and quite a few birdies," Morikawa said. "I might have totaled my total birdies (today) that I had for the week. Positive things to come. I just made a few too many bogeys, obviously had that (lost ball) shot on eight, which was a little unfortunate on a par-5 where guys are taking it deep. So, you know, I know can make birdies out here, especially if I hit it in the fairway…I just gotta put it all together tomorrow."
Patrick Reed posted a third-round 70 (-1) and finds himself in X position heading into the final round. Reed made five birdies on the day, but found himself fighting uphill most of the day after two early bogeys on Nos. two and three.
"I just have to hit the ball a little better," Reed said. "I'm not giving myself that many opportunities even though I'm hitting a decent amount of greens…I'm just not hitting anything close. Because of that, it's making it harder to make putts and make birdies. I'm not in a really good spot right now, but I'm going to try to go out a shoot a really low number tomorrow because you never know."
Justin Thomas had his best round of the event so far, carding a 3-under 68, but suffered two bogeys on his final two holes to fall into a tie for X position. Him and Reed are both X shots back of the lead and X shots out of medal contention.
"It was another frustrating day," Thomas said. "I had the opportunity to shoot a pretty low score and least have a chance to shoot maybe 8-or-9-under and medal tomorrow, but yea, just kind of more of the same."
The final round of Olympic Golf men's competition begins at 7:30am JST tomorrow morning at Kasumigaseki Country Club.