Road to Tokyo - Nelly Korda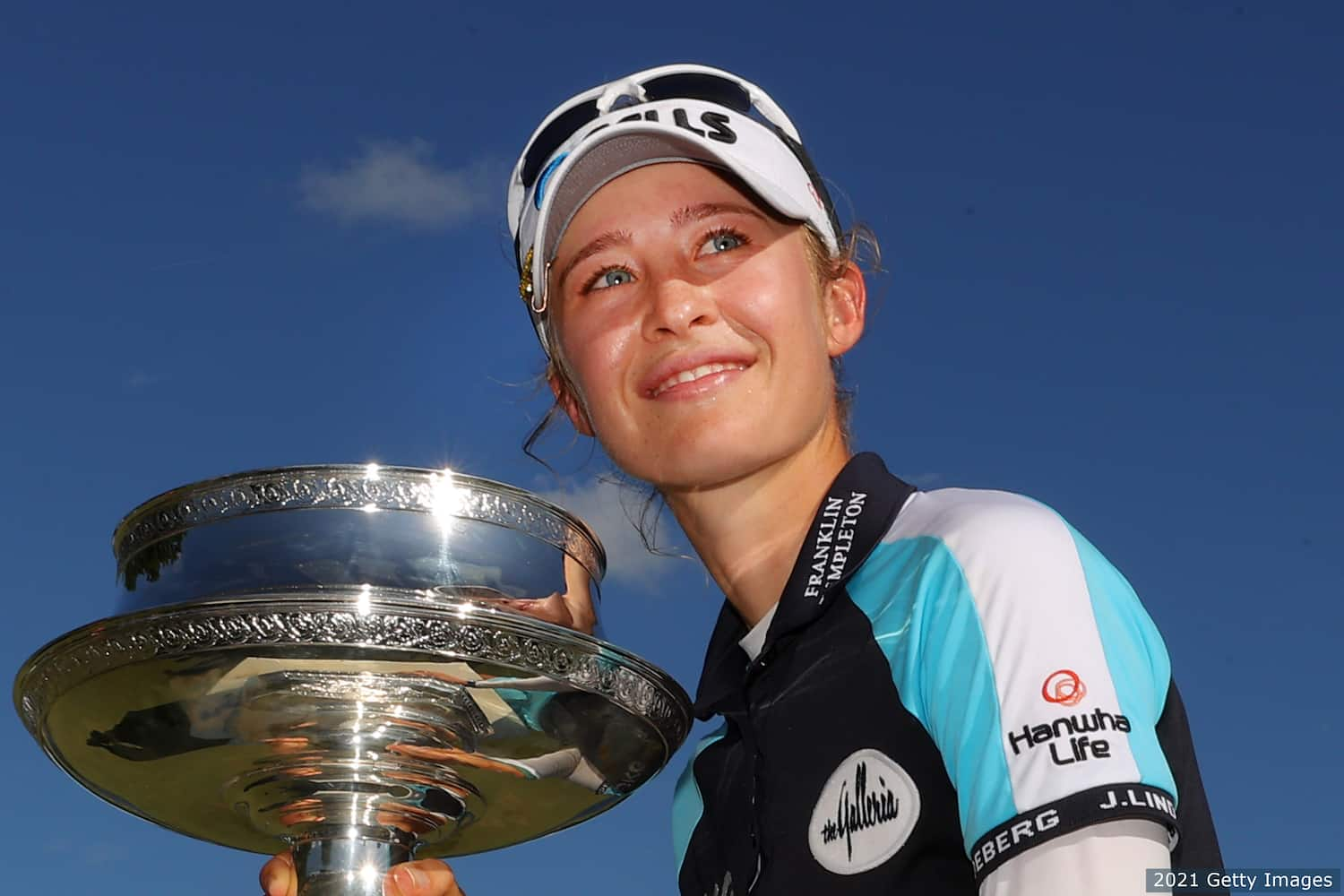 With a win at the KPMG Women's PGA Championship in June, Nelly Korda rose to No. 1 in the Rolex Women's World Golf Rankings. The first American to reach that spot since 2014, she did something that has never been achieved by any other member of her famous sporting family – become the best in the world at her craft.
Now, the 22-year-old Floridian heads to Kasumigaseki Golf Club as one of the clear favorites to take home a medal at the 2020 Tokyo Olympics, representing the Red, White and Blue.
"There's nothing like the Olympics. It's every four years," said Korda prior to competing in the Amundi Evian Championship, her last competition before heading to Tokyo. "It's a huge honor even to just be an Olympian, so I feel like anytime you're on that kind of stage and have a chance to grow the game of golf is really special."
Korda was born with elite competition in her blood, as the second daughter of Czech tennis stars Petr Korda, the 1998 Australian Open champion, and Regina Rajchrtová, who represented her home country at the 1988 Games in Seoul. Despite the family connection to tennis, Nelly dabbled with gymnastics and ice skating before gravitating toward golf, as did her older sister Jessica. Younger brother Sebastian quickly showed an affinity for tennis.
"I started getting serious around 6," she told Golf Digest, "taking lessons three or four times a week."
Born in the United States, the Kordas spent much of their summers in Czech Republic, greatly limiting Nelly's ability to play competitively on the elite amateur circuits. But that didn't hamper her early success, competing in the 2013 U.S. Women's Open just one week before her 15th birthday and winning numerous prestigious amateur titles as a young teen.
Korda eventually turned professional at age 17 and started her career on the Symetra Tour, the LPGA's official qualifying tour. She won her first pro event in 2016 in South Dakota and spent a crucial year learning the ins and outs of life as a professional athlete, the little intricacies that must be learned rather than taught.
"I'm very grateful that I did that," she said. "I went from playing seven events a year to playing 22 events. Every shot counts out there. It's such a pressure year. I grew a lot out there."
After graduating to the LPGA Tour in 2017, Korda quickly established herself as one of the young talents in the women's game. She earned her first LPGA Tour victory at the 2018 Taiwan Swinging Skirts LPGA, a title she successfully defended in 2019. Sandwiched between the two, she joined Petr, Jessica and Sebastian as winners in Australia, completing the Korda Slam by winning the 2019 ISPS Handa Women's Australian Open.
Fast forward to 2021 and Korda is now the top player in the world. She has three titles in 2021, the most on Tour, including a dominating performance at Atlanta Athletic Club to win her first major championship at the KPMG Women's PGA. That week not only vaulted Korda to World No. 1, but also secured spots on Team USA for both her and big sis Jessica. They'll join mom Regina as Olympians, something the boys in the family can't yet match – even Sebastian, now the 47th-ranked men's tennis player in the world.
"The experience repping Red, White and Blue is going to be a lot of fun, and to call each other Olympians," said Korda after her win in Atlanta. "Only the females in the Korda household will be Olympians, so that'll be really cool."