Akshay Bhatia turns 21 at The Panama Championship
Lessons learned as he turns to 'adult' portion of his
career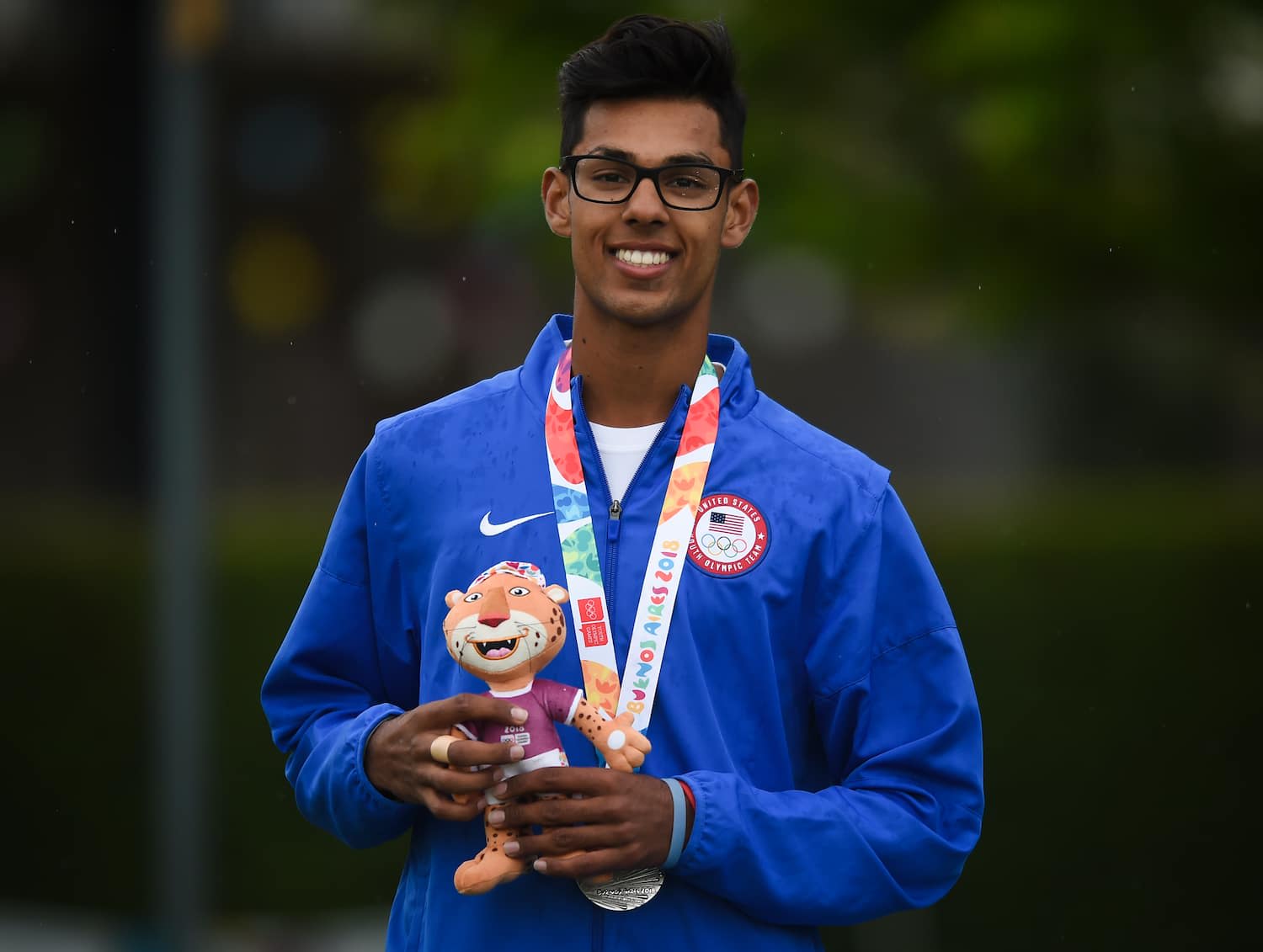 Akshay Bhatia earned two silver medals for the United States at the 2018 Summer Youth Olympic Games in Buenos Aires.
It was a memorable experience in multiple ways. The crowds in Argentina were eye-opening, serving as motivation for what could come in professional golf. He partnered with Lucy Li for a three-day competition that included best-ball, alternate shot and cumulative score, teaming for silver in the mixed team event. (He also won silver in the men's individual.) He boarded with athletes from other sports including basketball and track – he still keeps in touch with some via social media.
"You're alone for the week, with a bunch of the best athletes in the world … we got to explore a different country at 16 years old," Bhatia said. "It was really cool to be a part of that."
Bhatia is no longer, by definition, a kid. He turned 21 on Tuesday, set to celebrate at the Korn Ferry Tour's The Panama Championship as he continues the pursuit of a PGA TOUR card in his second full Korn Ferry Tour season.
For the North Carolinian who sets his sights on someday rising to world No. 1, the birthday marks a cornerstone moment – his mom is joining him in Panama for the celebration – but he doesn't foresee his life changing too much.
"It makes checking into a hotel easier, I can tell you that," Bhatia said Tuesday at venerable Club de Golf de Panama. "Maybe it makes it a little easier for rental cars, so the U-Haul situation doesn't happen again, but it feels about the same. I'm not a big drinker; I don't try to do anything too crazy, but it makes life a little easier."
Bhatia has started fast in his sophomore Korn Ferry Tour campaign with back-to-back top-10 finishes, a T4 at The Bahamas Great Exuma Classic at Sandals Emerald Bay followed by a T7 at The Bahamas Great Abaco Classic at The Abaco Club.
He stands No. 6 on the season-long standings, as he turns his attention to the upcoming Central America swing, with The Panama Championship followed by next week's Astara Golf Championship presented by Mastercard in Bogota. The top 30 at season's end will earn 2024 PGA TOUR membership.
Last year, Bhatia won the season opener in Exuma, marking a dramatic change in fortune after entering the season on conditional status. For the kid who turned pro at 17, who notched a top-10 at the TOUR's Fortinet Championship at 18, it resurrected the hype and intrigue that surrounded Bhatia's first forays on TOUR.
The remainder of the season didn't go as planned; Bhatia fought through a back injury and struggled to find the proper balance of rest. He didn't feel 100% throughout the season, culminating in three missed cuts at the Korn Ferry Tour Finals to fall short of a TOUR card.
But Bhatia views his rookie Korn Ferry Tour season as a cornerstone of the learning process. He's excited for his second season, which brings familiarity with host courses, cities and his peers. He feels more integrated into the week-to-week cadence on Tour.
And if his results in the Bahamas are any indication, big things could be imminent.
"Last year, winning was a huge bonus … you feel like you're going to cruise, and it just doesn't happen," Bhatia said Tuesday. "I've done a lot more work on my body and in the gym these last four or five months. It's made a big difference in my energy. My golf swing is a little better, more consistent, and I've put myself somewhat in contention these last two weeks.
"Last year, I was checking the (standings) every week to a certain extent, and this year, I'm not even going to worry about it. Not even going to look. Just try to enjoy it and keep being in contention every single week."
Bhatia draws inspiration from a variety of sources. He admires world No. 1 Rory McIlroy's unwavering work ethic and knack for not letting outside forces bother him. A student of the game, he recalls Patrick Cantlay's early-career injury struggles, which slowed him for a bit but not ultimately; Cantlay now stands world No. 5.
And like Jon Rahm and Max Homa, among others, he cherishes the 'Mamba mentality' cultivated by the late Kobe Bryant.
"It's hard to create it, and it's hard to believe it," said Bhatia of the mentality, "but if you can do that, and if I can do that at my age, I think the sky's the limit."
Bhatia has seen plenty in his first 21 years, from the worldwide stage of the Summer Youth Olympic Games to more quirky anecdotes like the aforementioned U-Haul – which he received as a rental car at last year's Blue Cross and Blue Shield of Kansas Wichita Open.
In some sense, he's now an adult. But 21 is just a number. The childlike enthusiasm for the game remains alive and well.
"I love playing golf every day and I love competing," Bhatia said. "This year, I'm going to be a little smarter and really going to enjoy everything. It's fun to keep learning and experiencing everything about professional golf."